Rangnick speaks after losing to Atletico Madrid 
This summer, like many other teams in the Premier League, Manchester United also entered the transfer market with the primary goal of upgrading the attack with a quality central striker. With Edinson Cavani about to leave and Mason Greenwood's career at a dead end, it's clear that the Red Devils are in need of a new 'Number 9' more than ever.
There are a series of options that are being targeted by the Old Trafford team, and Darwin Nunez – one of the most potential young stars in Europe at the moment, is said to be their top target. In a Benfica shirt, Nunez has scored 24 goals in all competitions, and he has also confirmed his true level with four Champions League goals – including extremely important goals against Barcelona and Barcelona. Ajax Amsterdam. 

 Nunez is having an explosive season. 
Of course, any deal brings certain difficulties to a team, not to mention a prized 'treasure' like Nunez. With Man Utd, if they are determined to plan to bring the Uruguayan striker to Old Trafford, then it is better that they be prepared in all aspects because there are a series of challenges waiting for them on the road ahead.
Telegram Sport insists that Man United's hopes of recruiting Nunez will depend on whether they can win a ticket to next season's Champions League, when the 22-year-old striker just wants to join the club. enabling him to play in the most prestigious European league.
At the present time, it can be said that finishing the season in the Top 4 is a really difficult problem for the Red Devils. They are 4 points behind Arsenal despite having played more than one game, and have also been taken by Tottenham Hotspur in 5th place. It is worth mentioning that both the Gunners and Spurs are said to be interested in the star. this. 
Obviously, not only the two teams mentioned above, but Man Utd also have to face competition from a series of big men in the race for Nunez's signature. According to Sport, Atletico Madrid has long been interested in Nunez, and with having played for Almeria in the past, La Liga will certainly be a favorable environment for Nunez to shine. In addition, in the event of losing Erling Haaland, Manchester City will also switch to Nunez.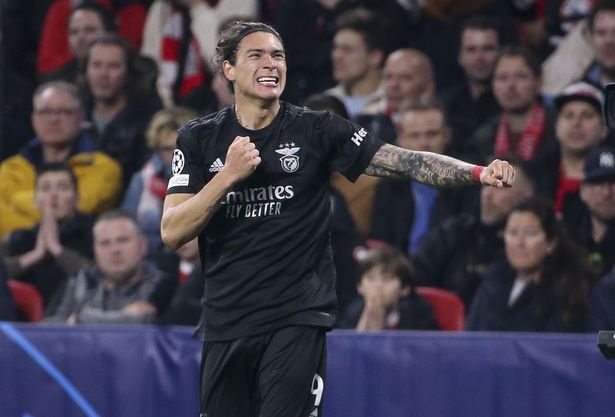 According to the Telegraph, Benfica wants at least £60m for Nunez.
Above all, with the presence of Ronaldo in the squad, Man Utd will certainly be at a disadvantage on the negotiating table because it cannot guarantee Nunez a main kick in the striker position. Of course, it will be difficult for Ronaldo to accept the bench, while Man City or Atletico Madrid can easily turn Nunez into an "irreplaceable" factor in the main squad.
In general, Top 4 is still not enough for Man Utd to confidently get Nunez's signature. And with a series of potential difficulties in this deal, it is better for the Red Devils to prepare for themselves backup plans. 
Huynh Phong |
11:36 April 1, 2022